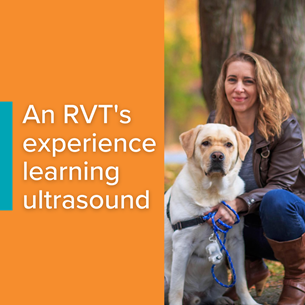 Learning Ultrasound as an RVT, a first hand account
Posted on
My name is Stephanie Oliver, and I am an RVT at Paradise Animal Hospital in Newfoundland. I was presented with an opportunity over COVID to complete an online series of webinars offered by Heska regarding basic ultrasound. I quickly jumped on this opportunity as I can see how important it would be for technicians to be able to provide this service for our clients and their furry families. After completing the basic ultrasound webinars online, I was feeling hopeful that I could do this, and I tried to practice as much as possible. I had some trouble with knowing if I was doing things correctly, and felt I needed more guidance while practicing, but kept trying. Then, in December of 2022 Heska offered an ultrasound course in Halifax that was being taught by a technician, for technicians. This was exactly what I needed to complete my course, get the hands-on training, and increase my confidence.

The one thing I found with the online webinars is that the doctor teaching it, while very good and informative, was teaching as a doctor and went into a bit more detail than I was ready for at that time. The technician course was geared more toward what techs will need to know and unnecessary things were removed. Since I returned from Halifax I have been practicing and practicing over and over. I am trying to see as much normal as possible and as often as possible. I have recently started sending off some images for interpretation. I feel a lot more useful to my hospital now that I can provide this service when our trained doctors don't have the time to do it. The amount of value this has added to our hospital is tremendous and though it's still a new thing to us, I can see that this will only increase and improve with time and practice. I am starting to get very excited to proceed with the intermediate course to further my knowledge.
Ready to get started? Check out our education schedule.